How we help
There are many stressful things in life, and starting a job – particularly your very first job – is one of the major stresses. This is where we can help.
We don't just train you, we also prepare you for your career ahead - and we do that from the very first moment, through to long after your apprenticeship course is complete.
Before your apprenticeship
Once you're accepted on to the Firebrand Apprenticeship scheme - and before you start your course - we will work with you to make sure you have every chance of getting a job. We'll analyse your current skills and experience and help you to choose the right sort of career path, be it: IT support, Network Support, Network Technician, Mobile app developer, or IT security.
We can help you with producing your CV and covering letters, and provide hints and tips to help you prepare for your interview.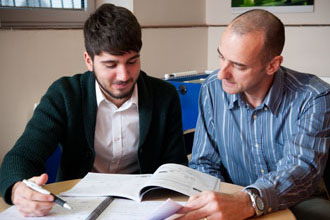 We are not just here to provide your training
Before you start your induction week at your new job, we will sit down with you and your employer. We'll discuss what you will be learning, and what's expected of you on a monthly basis for the whole year. Additionally we'll use a special VARK (visual, aural read/write kinaesthetic) Learning Styles Questionnaire, to find out more about how you learn best, so you can get the maximum out of your training.
We'll then come into the business every three weeks - and conduct quarterly assessments - to see how you are progressing with your training. We'll also be available via email if you need help with your training, or you feel you're struggling with something at work.
We'll also create your Individual Learning Plan (ILP) – which sets out your achievements and sets targets for learning in and out of the workplace. Your Individual Learning Record (ILR) details all the courses that you complete, and what you're scheduled to take next.
Information, Advice and Guidance
We're committed to making sure that you're supported in making informed decisions about your future, specifically within IT.
It's important for us to provide you with careers advice so you can take advantage of all of the opportunities out there for you, as well as helping you take responsibility for your life choices.