Employer stories
You now know Firebrand is your fastest way to learn and earn – but what do our 100s of employers think?
Simon Wade, HR Manager, 5G Communications
5G Communciations has hired multiple apprentices through Firebrand, and are currently in the process of recruiting more:
Chris Dunning, CEO, TechQuarters
TechQuarters has also hired multiple apprentices through Firebrand. CEO Chris Dunning explains: "I'm amazed with the professionalism, reliability, responsibility and capabilities that our apprentices possess. It's a great thing to work with them on a daily basis and see them grow. The apprentices add an incredible amount of value to the team. Without them, TechQuarters wouldn't be where it is today":
Paul O'Sullivan, CEO, Pythagoras Communications Ltd
Pythagoras Communications Ltd hired an apprentice called Kimberley through a Firebrand Microsoft Dynamics programme. Kimberley went on to win a Microsoft Apprentice of the Year award.
CEO Paul O'Sullivan, explains: "What we've found is that the apprenticeship gives more practical skills, which the apprentice can immediately apply, and get value for the business. I would say bringing in Kimberley as an apprentice has probably been a saving of around 50% over the normal route through a graduate intake."
"We needed a flexible approach that ensures apprentices don't spend long times out of the business in training. Firebrand's accelerated model really allows us to do that – the apprentice trains in intense blocks of time, and are quickly back in the business adding value."
"Not only do apprenticeships bring great, relevant, new staff into their organisation, we're also seeing employers benefiting financially. There's a huge ROI for employers - after the first year, on average, employers are benefiting by £6,000. That grows the longer they invest and keep the apprentice in the business."
John Nicholson, Director and Architect, IJYI
IJYI came to Firebrand to hire and train an apprentice, and help them grow their business. IJYI had a need for specific skills and they found an apprenticeship to be the best way to meet that need. By doing this, their business was able to continue its rapid growth and take on more projects.
John Nicholson, Director and Architect at IJYI, explains: "We chose Firebrand for their unique approach. Accelerated learning allowed our apprentice, Jasmine, to develop the skills we required faster. Training in concentrated blocks also meant we could set work for Jasmine without the fear of interruption and project delays, unlike the traditional day release approach."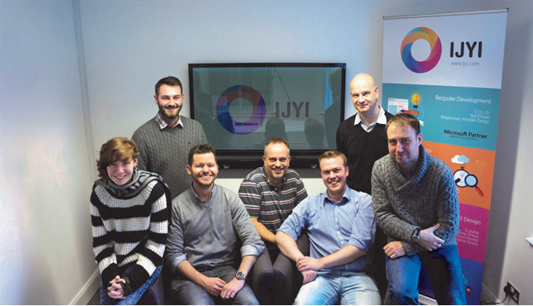 Become an apprentice employer, start by sending us a short description of your role.