Accredited Training Centre of the Year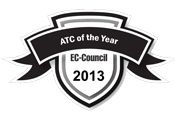 Firebrand Training has again won the EC-Council Accredited Training Centre of the Year Award, from a Training Partner network that has more than 450 training centres across 70 countries.
Jay Bavisi, President of EC-Council said: "The annual EC-Council Awards highlights the commitment and achievements of our global partners and trainers that have contributed to the information security community."
Version 8 Curriculum and Exam
CEH v8 builds on earlier releases with more emphasis on techniques and methodologies, which attackers may use to carry out possible attacks against system/ networks.
Version 8 has been produced using the experience of real-world practitioners along with the EC-Council development team. The product uses the latest operating systems such as Windows 8 and Server 2012 .
Hundreds of SMEs and authors have contributed towards the content presented in the CEH v8 courseware. Latest tools and exploits uncovered from the underground community are featured in the new package. EC-Council researchers have invested thousands of man hours researching the latest trends and uncovering the covert techniques used by the underground community.
We offer 50% more content than traditional 9-5pm training. This means that you will spend more time learning how to apply your new skills and software.
Review
"The course was excellent, the instructor provided the path to a clear and stimulating learning environment that was perfectly setup for optimal learning. This is the third course I have done with Firebrand, and will be doing some more!" Russ Cashman (Firebrand Certified Ethical Hacker)
"Great training,fantastic instructor and a good loctaion. Wouldn't hesitate to use Firebrand Training again." Andrew Bishop (Firebrand Certified Ethical Hacker)
During the week, you'll sit the following exam on-site to gain your CEH certification:
EC-Council: Certified Ethical Hacker
Other accelerated training providers rely heavily on lecture and independent self-testing and study.
Effective technical instruction must be highly varied and interactive to keep attention levels high, promote camaraderie and teamwork between the students and instructor, and solidify knowledge through hands-on learning.
Firebrand Training provides instruction to meet every learning need:
Intensive group instruction
One-on-one instruction attention
Hands-on labs
Lab partner and group exercises
Question and answer drills
Independent study
This information has been provided as a helpful tool for candidates considering training. Courses that include certification come with a certification guarantee. Pass first time or train again for free (just pay for accommodation and exams on your return). We do not make any guarantees about personal successes or benefits of obtaining certification. Benefits of certification determined through studies do not guarantee any particular personal successes.
Frequently asked questions
Q. What is ethical hacking?
A. An ethical hacker is someone who is employed to test an organisation's security system. If an ethical hacker can hack your IT system, you can be certain a 'black hat' hacker could too. Learn more about ethical hacking from IT security expert Jack Daniel: Watch the video here.
Q. What will you learn on the CEH course?
A. You'll learn how to hack by immersing yourself in an interactive environment where you scan, test, hack and secure your own systems. You'll also learn about intrusion detection, policy creation, social engineering, DDoS attacks, buffer overflows and virus creation. You'll learn ethical hacking and its principles.
Q. What job opportunities are available with a CEH certification?
A. With an ethical hacking degree, job opportunities include working for private companies, or even the government. With the likes of Adidas, Sony and Nintendo's security recently being compromised, more and more companies are taking their security very seriously. They're looking for better ways to combat breaches of their data. The average salary of an ethical hacker is over £40,000 according to itjobswatch.co.uk.
Q Are there any example CEH exam questions?
A. Yes. You can find them on our practice-test page.
Q. Can I learn ethical hacking online?
A. Online courses don't offer the hands-on experience you get at Firebrand. In this accelerated course you'll have the chance to ask any questions directly to your instructor, and use the latest and greatest hacking tools. Before starting the course in any form, it is recommended that you have at least two years' IT experience, a strong working knowledge of TCP/IP, Windows Server (NT, 2000, 2003, 2008) and a basic familiarity with Linux and/or Unix.
We offer 50% more content than traditional 9-5pm training. This means that you will spend more time learning how to apply your new skills and software.
You will learn the following content:
Module 1: Introduction to Ethical Hacking
Module 2: Footprinting and Reconnaissance
Module 3: Scanning Networks
Module 4: Enumeration
Module 5: System Hacking
Module 6: Trojans and Backdoors
Module 7: Viruses and Worms
Module 8: Sniffers
Module 9: Social Engineering
Module 10: Denial of Service
Module 11: Session Hijacking
Module 12: Hacking Webservers
Module 13: Hacking Web Applications
Module 14: SQL Injection
Module 15: Hacking Wireless Networks
Module 16: Hacking Mobile Platforms
Module 17: Evading IDS, Firewalls and Honeypots
Module 18: Buffer Overflows
Module 19: Cryptography
Module 20: Penetration Testing
This class will immerse you into an interactive environment where you will learn how to scan, test, hack and secure your own systems. The intensive environment will give you in-depth knowledge and practical experience with the current essential security systems.
You will begin by understanding how perimeter defences work, and then move into scanning and attacking your own networks - no real network is harmed. You will also learn about Intrusion Detection, Policy Creation, Social Engineering, DDoS Attacks, Buffer Overflows and Virus Creation.
The CEH certification includes an exclusive section for countermeasures against different attacks, with detailed explanation of how to implement these countermeasures in real life. There is also a complete section dedicated to penetration testing. It illustrates how to implement learned concepts to test network system security.
To gain your CEH certification, you'll sit the v8 version of Exam 312-50v8, meaning that you have the most in-demand certification available.
Prior to attending this program, you will be asked to sign an agreement stating that you will not use your newly acquired skills for illegal or malicious attacks. This confirms that you will not use such tools in an attempt to compromise any computer system, and to indemnify EC-Council with respect to the use or misuse of these tools, regardless of intent.
Provided for free on the course:
Certified Ethical Hacker Courseware Kit
The courseware kit includes:
DVDs containing 20GB of the latest hacking and security tools, and more than 1,000 minutes of videos demonstrating hacking techniques.
A result oriented, descriptive and analytical lab manual; the labs showcased in the courseware are tested against latest Operating Systems with all the patches and hot fixes applied
Firebrand Training offers top-quality technical education and certification training in an all-inclusive course package specifically designed for the needs and ease of our students. We attend to every detail so our students can focus solely on their studies and certification goals.
Our Certification Programmes include:
Intensive Hands-on Training Utilising our (Lecture | Lab | Review)TM Delivery
Comprehensive Study Materials, Program Courseware and Self-Testing Software
Fully instructor-led program with 24 hour lab access
Examination vouchers *
On site testing **
Accommodation, all meals, unlimited beverages, snacks and tea / coffee***
Transportation to/from designated local railway stations
Examination Passing Policy
Please note
* Examination vouchers are not included for the following courses: PMP, CAPM, CISA, CISM, CGEIT, CRISC and CISSP CBK Review
** On site testing is not included in our PMP, CISA, CISM, CGEIT, CRISC or ITIL Managers and Revision Certifications
*** Accommodation not included on the CISSP CBK Review Seminar
Our instructors teach to accommodate every student's learning needs through individualised instruction, hands-on labs, lab partner and group exercises, independent study, self-testing, and question/answer drills.
Firebrand Training has dedicated, well-equipped educational facilities where you will attend instruction and labs and have access to comfortable study and lounging rooms. Our students consistently say our facilities are second-to-none.
Examination Passing Policy
Should a student complete a Firebrand Training Program without having successfully passed all vendor examinations, the student may re-attend that program for a period of one year. Students will only be responsible for accommodations and vendor exam fees.
Before attending your CEH training course, you should ideally have at least two years' IT experience, a strong working knowledge of TCP/IP, Windows Server (NT, 2000, 2003, 2008) and a basic familiarity with Linux and/or Unix.