Mario Henkel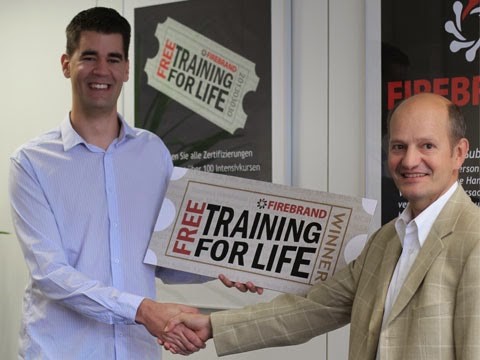 Firebrand's second winner of Free Training For Life in 2014 was Mario Henkel. At the time he was based in Frankfurt working for ponturo consulting AG, a company offering IT and business consulting as well as project management services. Mario's role was as an IT Administrator.
Mario's initial reaction to hearing he'd won the prize was:
"This is incredible, I can't believe I won Free Training for Life! I am still processing the opportunities this prize can create for me in my future career. I cannot wait to get started."
Prior to winning Free Training For Life, Mario first sat a Firebrand course back in 2010, doing the combined MCITP Server Administrator & Enterprise Administrator (since replaced by the MCSE: Server Infrastructure). He said of his experience:
"The course was hard, but very efficient. The instructor was very competent and managed to motivate everyone throughout the course. The course perfectly prepares you for the exam and is very focused. I will come back!" - Mario Henkel - MCITP Server Administrator & Enterprise Administrator (13 days)
On this course Mario learnt the skills to manage and maintain Windows Server 2008. This included network application service and managing backup and recovery of these systems
Mario did indeed return to build upon his Windows Server 2008 skills by sitting the Microsoft MCSA upgrade to Windows Server 2012 course.
On this course, Mario learnt how to install Windows Server 2012, manage storage and implement remote access. He also learnt the up to date management and maintenance skills for Windows Server 2012. These skills will help him migrate systems to the new Microsoft technology and prepare for the cloud.
Now also MCSA: Windows Server 2012 certified, getting these skills and certifications creates more opportunities for Mario in this area. He could get MCSE: Server Infrastructure certified, building on his skills to efficiently run a data centre with emphasis on identity management, systems management, virtualisation, storage and networking.
He could also move his skills into the cloud with one of Microsoft's Azure certifications like Microsoft MCSD: Azure Solutions Architect or Microsoft MCSE: Private Cloud. These cover the architecture, development, and administering of Azure. Plus, MCSE: Private Cloud will teach you to build, run and manage your own Microsoft Private Cloud system.
For your chance to win Free Training For Life, enter here